DBFZ Anime Music Pack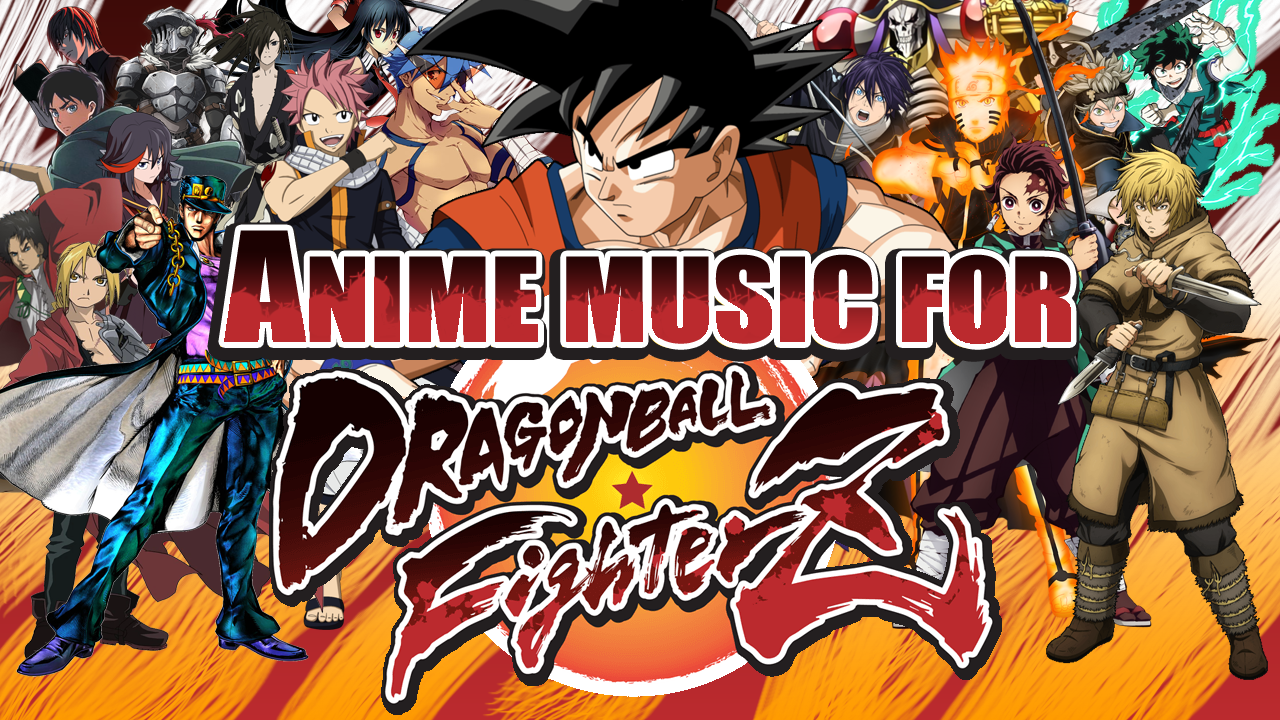 It is the first time that I make a mod... I hope you like it.
                    Songs List:
Characters:
Android #16 (Kill la Kill Opening 2)
Android #18 (Kill la Kill Before My Body Is Dry)
Beerus (Evangelion Opening 1)
Buu/Kid Buu (Boku No Hero Opening 6)
Cell (Black Clover Opening 2)
Freeza (Black clover Opening 10)
Ginyu (Akame Ga Kill Opening 2)
Gohan Teen/Adult (Tate no Yuusha no Nariagari Opening 1)
Goku SSJ/SSB (Shingeki No Kyojin Opening 1)
Goku Black (Goblin Slayer Opening 1)
Bardock (Parasyte Opening 1)
Gotenks (Dororo Opening 1)
Hit (Cowboy Bebop Ending 1)
Krillin (Accel World Opening 1)
Nappa (Jojo´s Bizarre Adventure Opening 8)
Piccolo (Fullmetal Alchemist Brotherhood Opening 1)
Tenshinhan (Fullmetal Alchemist Brotherhood Opening 4)
Trunks (Gurren Lagann Opening 1)
Vegeta SSJ/SSB (Death Note Opening 1)
Yamcha (Fire Force Ending 1)
Broly DBZ (Vinland Saga Opening 1)
Stages:
Cabern (Kimetsu No Yaiba Kamado Tanjiro No Uta)
Cell Games (Yakusoku No Neverland Opening 1)
Island (Boku Dake Ga Inai Machi Opening 1)
Kaio World (Dragon Ball Z Opening 2)
Namek (Fairy Tail Opening 16)
Namek Destroyed (Naruto Shippuden Opening 6)
Rocky (Jojo´s Bizarre Adventure Opening 2)
Space (Dragon Ball Super Ultimate Battle)
West City (Overlord Opening 1)
West City Destroyed (Gurren Lagann Libera Me From Hell)
World Tournament (Noragami Opening 1)
Plains Destroyed (Dragon Ball Super Broly Blizzard)
Special:
BOSS 1 SAIYANS (Promare Lio Fotia Theme)
BOSS 2 ENEMYS (Shingeki No Kyojin Attack ON Titan Fight Theme)
BOSS 3 ANDROID (Soul Eater Ending 1)
Other:
Character Select Theme (Durarara Opening 1)
Result Screen Theme (Samurai Champloo Ending 1)
Lobby Theme (Dragon Ball Z Kai Ending 3)
Versus Theme (Devil May Cry Opening 1)
Main Menu Theme (Devilman Crybaby Devilman No Uta)
English:
1) Unzip the Rar file "Anime Music for DBFZ".
2) Add the files to the "~mods" folder (Make sure you don't have any other music pack or it won't work properly).
3) Open DBFZ and Enjoy.
Español:
1) Descomprimir el archivo Rar "Anime Music for DBFZ".
2) Añadir los archivos en la carpeta "~mods" (Asegúrate de no tener ningún otro pack de música o no funcionara bien).
3) Abrir DBFZ y Disfrutar.
Português:
1) Descompacte o arquivo Rar "Anime Music for DBFZ".
2) Adicione os arquivos na pasta "~ mods" (verifique se você não tem nenhum outro pacote de músicas ou ele não funcionará bem).
3) Abra o DBFZ e divirta-se.
The Download button is broken
El boton de Descarga esta roto
O botão de download está quebrado
Links:
Mediafire:
www.mediafire.com/file/rj5u95hcb5iqlsh/Anime_Music_for_DBFZ.rar/file
Mega:
https://mega.nz/#!FPYS0CzA!ai5URrLCXAFv38CWhXnw-LTY-bRBAcsaCV584lxj0Jo