Just Cause 2 %100 Save File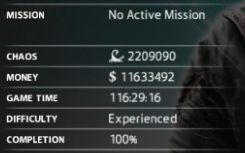 I edited this save, it is made by Kostas. I made it better.
[If you have a problem, you can write it to discussions]
1- Copy " JustCause2Save04.sav "
2- Find where is the save of Just Cause 2 [Check documents or watch a video from youtube] [Note: Search for the file named Square Enix]
3- Paste the save file you copied to the save location
4 [Optional]- Write discussions " It is working well "
Fixed!
Tested!
%100 Working!