Cyberpunk 2077 Quadra V – Tech Imperator Decal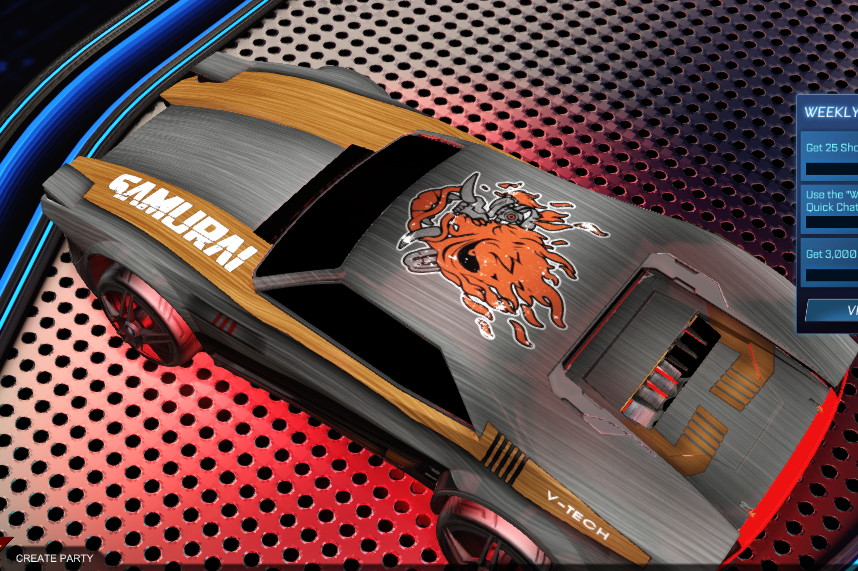 This decal is modeled after the Quadra V - Tech (V's Car) from Cyberpunk 2077.
This decal currently works for:
-Imperator DT5
Updates may come to support other cars aswell.
Apologies for poor screenshot quality.
To install this decal you need to open the Bakkesmod folder,which should be located in AppData/Roaming/bakkesmod/bakkesmod .This folder can be accessed via clicking the "Open Bakkesmod Folder" option under the "File" category in the bakkesmod app itself,or by typing "%AppData%/bakkesmod/bakkesmod" while opening a new task with task manager.
Upon reaching the bakkesmod folder all you need to do is go to the folder called "data",then to the folder called "acplugin" and then to the "DecalTextures" folder.
Once there,drag and drop the .zip file and extract the files in the "DecalTextures" folder and you should be good to go.
If anything goes wrong feel free to ask me anything in the comments and i will try my best to fix your issue.
P.S:
I added a scratched variant of the skin as a bonus :)
RATING
Credit given to modders
TheRedCat64
Updated
February 21, 2021
Categories
RATING
Credit given to modders
TheRedCat64
Updated
February 21, 2021
Categories