Stoner Set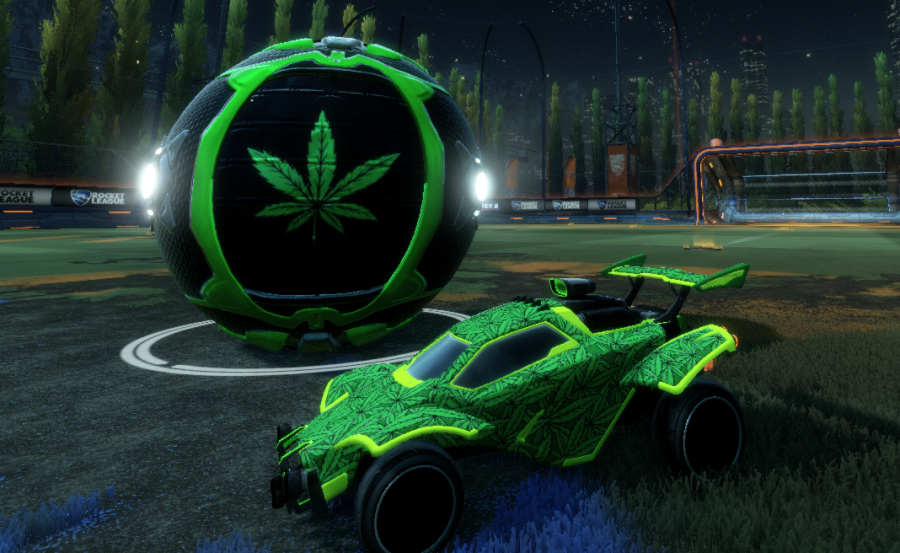 This pack includes the Stoner octane decal and Stoner Ball reskin. The ball reskin sadly only works in freeplay or lan matches because of the possible competitive advantages they may provide. NOTE: in order to use this pack you must have the bakkes mod alpha console plugin. I also am not sure if this is possible if you have the free version of rocket league from epic games.
If you are struggling to download the bakkes mod alpha console here are some links to help....
https://bakkesplugins.com/plugins/view/108
https://bakkesmod.fandom.com/wiki/Troubleshooting#Unable_to_install_plugins_with_BakkesMod_from_bakkesplugins.com
I will also leave a link to a youtube channel called hurricane modding who can help you create custom decals of your own.
make sure you have installed the bakkes mod alpha console plugin. If you do not have this then look on youtube you will find plenty of tutorials for how to download both bakkes mod and bakkes mod alpha console.
go to program files (86) - Steam - steamapps - common - rocketleague - Binaries - win64 - bakkesmod - data - acplugin. From here you will have a couple folders. you want to find the BallTextures folder and DecalTextures folder. NOTE: you can also open your bakkes mod click on file then open bakkes mod folder and follow the steps from there.
I reccomend extracting the zip folder to your desktop. Once you do this open the folder and you will see the stonerball, stonerball.json, stonerdecal, stonerdecal.json.
to get the decal you must open the decaltextures folder in your alpha console and drag the stonerdecal.png and stonerdecal.json into the folder. Then to get the ball drage the stonerball.png and stonerball.json into your BallTextures folder.
Once you have completed these steps go into your rocket league and hit f5 or your set keybind to open the alpha console menu. then go to cosmetics and under cosmetics you will find many dropdowns. Go to the decal textures and ball textures and change these to the stoner set and you will have the stoner octane and stoner ball.